It's FRIDAY!!!  Yay!!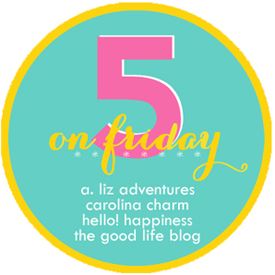 So I'm Linking up with Darci and the girls for Five on Friday!!!
Here is a glimpse of our week!!
~ONE~
Last week this time…I was with some of my favorite girls in Charlotte running in the Electric Run!  It was so much fun!  There were over 20000 participants and it was at the Speedway.  Such a great experience!
Painting our faces and looking ridiculous was half the fun!!!
~TWO~
We had some major flooding in our community.  This is a park right below my Mom's house….completely flooded.  You can barely see the top of the picnic shelter and the sliding board.  I was  a little girl the last time I seen it this way.
You can see in this pic how close the water is to the bridge.
~THREE~
Ryder cracks me up.  I had to go in Old Navy to do a quick return and before I even pulled the return out of the bag…I looked over and Ryder had done thru off his crocks and was putting on Red Cowgirl boots!!  He LOVES boots.  Apparently of any kind!   He even ditched his track hoe for them.
I let him wear them around for a few minutes…thankfully he didn't fuss when I told him he had to take them off.
~FOUR~
Ryder got a much needed haircut today.  Deluxe package. 
I'm struggling to decide what to do with his hair.  Some days I'm dead set on letting it grow and other days I'm ready to cut it short and keep it in the faux hawk….decisions decisions.  #hairstylistproblems
~FIVE~
Do you LOVE lullabies???
Well…I LOVE this CD!!  I bought it when Ryder was a baby and use to play it all the time during the day while he was napping in his swing.  I still rock Ryder to sleep at night and I just really got burn out on singing to him…so I downloaded the CD to my Itunes and synched it to my phone.  He now ask every night for me to play his lullabies.  They are so relaxing….even Chris loves them.  I'm not sure if Wal Mart still has this CD but it's worth checking on!! 
Five Memories…now recorded!!
Hope everyone has had a super week!!!  Happy WEEKEND!!!
God Bless!!!