Follow my blog with Bloglovin
Since Summertime is so busy…My blog has taken a serious back seat! So I'm excited to link up with Darci from The Good Life Blog for Five on Friday!!! This will help me recap everything I have failed to blog about thru the week! I also love reading other bloggers post and seeing all their fun 5's!!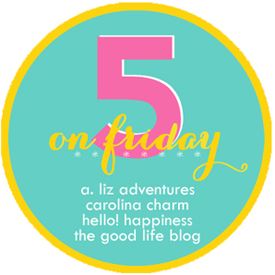 I love that this can be just 5 random things!!
ONE.
I never try to coordinate my clothes with the boys or vice versa (unless it's a holiday) but on most days….it always ends up that way! I must have been in a yellow and blue mood on this particular day!!
TWO
Our local library has story time on Wednesday mornings during the summer. We went last week.
Two books checked out, 2 spider-man stickers and 2 free bag lunches later and we were on our way!! The boys love it!!
THREE.
We found a tick on Ryder 2 weeks ago and a few days later he started getting sick with a fever and vomiting. We took him straight to his Pediatrician to make sure he didn't have Rocky Mountain Spotted Fever. They were very concerned too. We had to monitor him very closely for the next few days to make sure no rash appeared. Thankfully, he started feeling better and no rash! It's so pitiful when your little ones are sick! But, I have to say…I enjoyed all our cuddle time!!
FOUR.
Our FOURTH OF JULY!!!
We've been celebrating all week. Starting Sunday in our RED WHITE and BLUE!!! Ryder is the best picture taker ever!! (in my sarcastic voice)
And there is nothing more American than some BASEBALL!!!
We watched Caine's All Star Team Play! It wasn't raining…I just have to keep the sun off of this white girl skin of mine!!!
Caine played such a good game!!! So proud of him!!!
Our traditional lake day got rained our yesterday so we cooked out at the Hallman's and did a little swimming in between storms!! More on that in another post!! But here are a few pics of the boys!
This is how Ryder felt about all the rain!!!
I challenged myself to wear red white and blue everyday this week. I actually started last Friday but didn't get a pic of that outfit….and I'm currently still in my pj's today!
FIVE.
The drive in movie!!! It's been ages since we have been to the drive-in. We decided to take the boy and go see Monsters University! I mean….can you really beat 10 bucks for 4 people??? Nope…you sure can't!! We weren't sure how Ryder would do…and to be honest, he didn't do so great. So thanks to the hubby who wrangled him most of the movie so that Mommy and Maddox could relax and enjoy ourselves!!
I actually have about 10 things I could post about but I'm going to stick to the rules….and save the others for next week!!
Thanks for stopping by…hope you all had a fantastic fourth of July and have a fun filled weekend!!!
Pray it stops raining here!!!
God Bless!!!!